Portuguese luxury property has been the surprise stand-out sector of the pandemic. While the market has been flooded with small flats as the AirBNB business collapsed - there are some real bargains below EUR 1m right now in Lisbon and Cascais - bigger homes with more space, both indoors and outdoors, have seen a massive increase in demand.
4 to 5 bed homes in Cascais, Comporta, and Lisbon are selling well, and according to real estate agents, there are a lot more enquiries from high net worth buyers than was the case just a couple of years ago. People who have experienced lockdown in smaller flats or in city centres want more space, and those who've adopted teleworking or can afford to run their businesses remotely are looking for somewhere that ticks these boxes.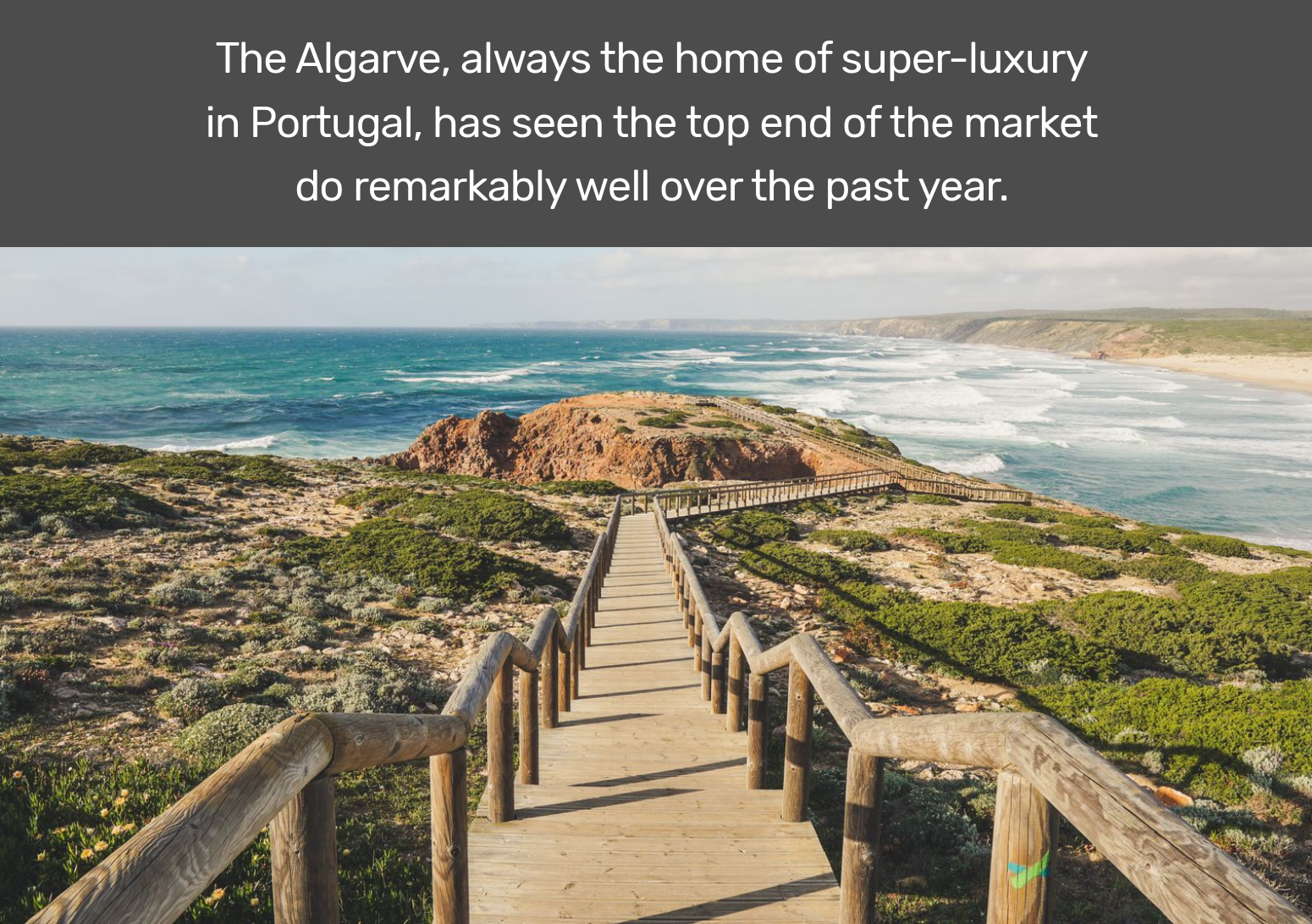 Other agents say, many clients already have a holiday home in Portugal, but now want to move to Portugal full time and are looking for a larger property. Alison Hojberg of QP Savills says that in 24 years she's never seen the Algarve luxury market as hot as it is now.
The Algarve is also drawing a more international crowd. It's always been a favourite with the Brits, but now there's an increasing number of buyers from elsewhere in Europe, particularly Germans and French, and more Americans, as well. There's good demand from Portuguese buyers, too.
Major resorts have always been popular and highly priced, since they offer good infrastructure (including property management) and facilities (golf clubs, watersports bases, restaurants and so on). Quinta do Lago has seen its sales figures rise nearly a third in the first half of 2021, and there's strong demand for resale units, too. But properties here and in Vale do Lobo are highly priced; a villa that would sell for EUR 6-8m might cost only EUR 2-3m around Loulé, further inland.
Even super-luxury buyers are looking inland, for a couple of reasons. First, government has been imposing increasing restrictions on beach-front building, which together with a tight market in both skilled labour and construction materials has led to a dearth of supply. But secondly, the Algarve coast is quite heavily developed. Inland properties can usually offer more space and more privacy, with a more relaxed lifestyle - and they may still only be 20 minutes from the beach.
The balance might be shifting further north from the Algarve, too. The news that recently galvanised the Portuguese real estate sector was that George Clooney will be building a luxury home in the Costa Terra Ocean Club, Melides, having it designed entirely to his own requirements. This area of Alentejo, just south of Comporta, is now being described as "the new Ibiza" - it's closer to Lisbon than the Algarve, and is also one of the less developed areas of the coast.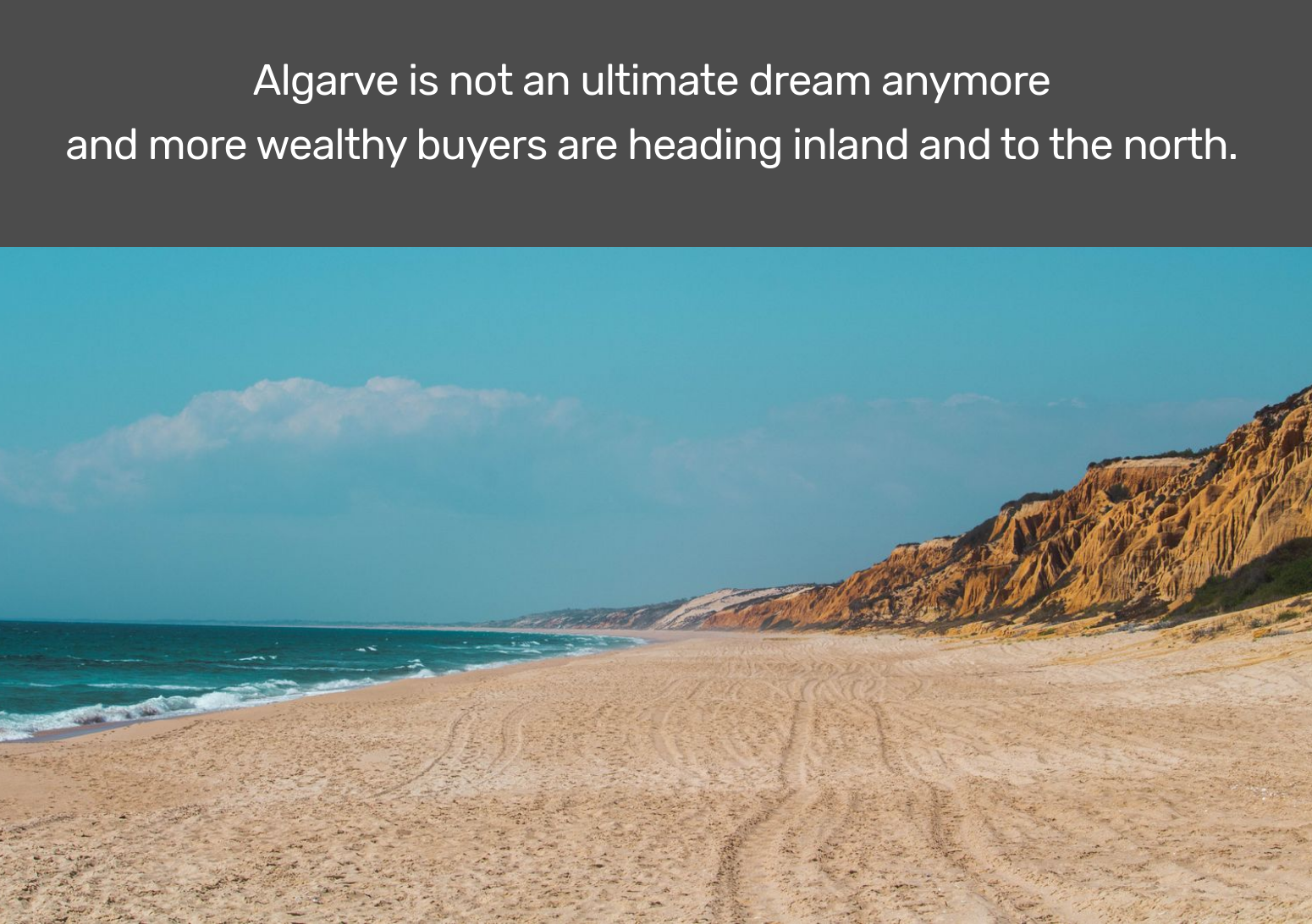 Comporta is already a fashionable town
It's one of the top five global destinations preferred by premium real estate investors, along with Menorca and the Canary Islands, for instance. Madonna, Christian Louboutin, and the Monegasque royal family have all stayed here. It's much more discreet and less 'touristy' than many of the Algarve towns.
Now, the coast south of Comporta is seeing an increasing number of developments. This used to be an area of rice paddies, pine forests, and sand dunes, with abandoned beaches where you could gallop a horse or wander along the water's edge; very different from the high density building of the Algarve coast. Newbuild prices are already comparable with those on the Algarve.
One of the early developments, Melides Art, at Quinta da Comporta, was started in 2019, and artists and musicians have been flocking here - not so much the royalty and business families who prefer the more mainstream Comporta. Its 10 villas are low, bare, in ochre colours reflecting the sand, and the gardens seem almost an extension of the sand dune vegetation with tall grasses and soaring pines. 22 more villas are planned.
There are more developments on the way. At La Réserve, Comporta, villas start at EUR 950,000, with 82 'village' houses from 426,000 and a number of apartments also available. As at Melides Art, the development has been planned meticulously to reflect the feeling of local fishing villages while providing modern luxury.
The biggest development, Torre-Terras da Comporta, broke ground in 2020 and will include a hotel, sports facilities, 3 tourist villages and 245 villas.
So is it significant that Clooney has chosen this area as a place to invest?
He and his friend Mike Meldman, who's running the Ocean Club development, have an eye for good investments. They already worked together to build up a tequila brand that they sold for $850m. I wouldn't mind betting that the area will be a great investment - but it might not retain its current arty, semi-wilderness feel.
Finally, changes to the Golden Visa scheme, which grants Portuguese residence for a given investment in property, don't appear to have had a big effect on the super-luxury market. It's mainly the properties just above the cut-off limit, in Lisbon, Porto and coastal Algarve, that appear to have been affected.
Increasingly, buyers want to come and live permanently in Portugal - and there are much easier and cheaper ways of doing that than getting a Golden Visa, such as getting a D7 visa for anyone who can demonstrate a stable income (such as pension, real estate, or investment returns) and doesn't want to work in Portugal.
We shouldn't think George Clooney is going to have any problem - given that the minimum income for a D7 visa is EUR 7,980!