The map of French property prices always looked like this: the city of Paris first, then greater Paris, then the other big cities - Lyon, Nice, Bordeaux - then the Ile de France, and then if you skipped the middle and went right down to the bottom, you'd find two big areas of cheapness, on the periphery in Brittany, and right in the middle of France where the whole of Limousin, Auvergne, and Berry were good value.
Paris is still the hottest market
That still holds - but a bit less than it used to. Paris is still expensive; a tiny apartment in the 9th arrondissement was on the market for EUR 300,000 last year. That looks quite reasonable for Paris at EUR 8,108 a square metre - the Paris average is over EUR 10,000 - until you realised that though the floor area was 37 square metres, the actual livable space (defined in the Loi Carrez) was only 7 square metres. No wonder many residents of central Paris want to move.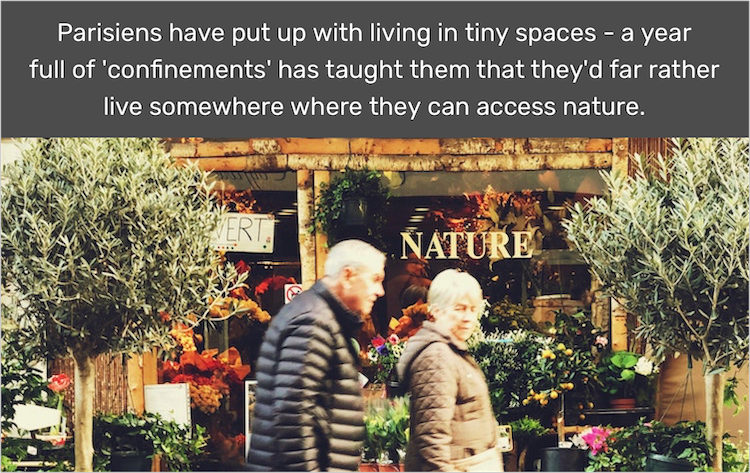 Shocking to relate, central Paris prices actually fell 2 percent year on year in the first quarter, according to PriceHubble. But Paris suburbs and towns in the grande couronne, the bigger area round Paris, have seen a big increase.
Notaires du Grand Paris just published a report that says from November 2020 to January this year, the city of Paris saw the volume of sales down 6%, and apartments in the whole region were pretty flat, but villas were up 3% overall and 8% in the grande couronne (the outer suburbs), with prices pretty much following the same pattern as volume.
What happens outside of Paris?
Areas around Paris - both suburban areas where you can get more for less, and country towns and villages further out - are booming. Departments such as Seine Saint-Denis and Seine-et-Marne have seen prices up as much as 8%. If you want a bit more of a bargain, look west of Paris in the department of Yvelines, which is a bit further out but on a main line to Paris.
The same effect has been felt around other large towns too, such as Lyon, Toulouse, Nancy, Bordeaux, and even Limoges. Citydwellers are either becoming small town dwellers, or going right out to live on a farm and downsize to a tiny pied-à-terre in town. That's beginning to put pressure on areas beloved of foreign buyers, such as the Dordogne.
Cities with TGV lines taking a couple of hours to get into Paris seem also to be doing well - Angers up 4%, Nantes 6.5%, Rennes 9%, as well as Le Havre. Some other smaller cities are also seeing their markets heat up - Limoges, for instance, which has seen a decade of stagnation, is suddenly buzzing.
One tip if you'd like a city bargain; look around the station
Some cities, like Chartres, have decided to take things in hand. SNCF had a huge amount of surplus property and there's now a mixed-use development that should create a fantastic environment - but probably will sell at quite high prices. Strasbourg did the same a while back.
But a lot of other mid-size cities are stuck with an area round the station that is still a bit low rent - kebab shops, houses that need a lick of paint, and low prices compared to the rest of the city. If you'd like a smart period house in a cul-de-sac in Limoges, you'll pay half the amount for a house around the Benedictins station that you would for the same property in the cathedral quarter.
After the pandemic, people want to live closer to public transport - and we can see these areas being renovated and becoming really rather attractive, though they may never quite rank with the very cutest and most picturesque streets.
What's cheaper - new dev or fixer-upper?
One interesting fact is that the construction industry is now working full tilt. There's a lot of newbuild, but there is also a lot more renovation going on. In Correze and Haute-Vienne, they say, most good artisans have booked themselves up pretty much for the year - and they're getting a lot of their calls from French clients, not the usual English and Dutch buyers.
That means more competition for those fixer-uppers - as well as for modern and restored houses in country areas. Perhaps in the middle of the Auvergne, the most remote properties will stay cheap - but in Haute-Vienne, where you have the motorways heading to Paris, Clermont-Ferrand and Bordeaux, and good rail links, prices could move. Although, that said, there are a lot of properties around.
Or you could consider a chateau. Because strangely, though the market as a whole saw transactions severely limited, sales of manor houses and chateaux were up 40 percent last year according to specialist agency Le Nail. An impeccably restored large chateau might cost you a couple of million, but fixer-uppers (if you can be so rude about a chateau) start at EUR 250,000 - less than a shoebox in Paris.
Meanwhile, the other cheap areas - northern Brittany, particularly inland, and Berry (Indre-et-Loir and Loir-et-Cher) seem to remain cheap. Brittany in particular is just a bit too far to commute - and here, as well as in Limousin, rural depopulation means however many old houses get restored, there's always going to be another barn or cottage to come on the market.
Find your dream home