You have dreamed of owning a home in Switzerland and month after month, you have conscientiously saved to buy real estate there.
This is, indeed, a turning point in the life of any buyer.
It is necessary to educate yourself and establish a strategy that will allow you to make the right choices to avoid the pitfalls that can accompany the purchase of a house or an apartment in Switzerland. Here are some tips to make your first real estate purchase in Switzerland a success.
Things you should be aware of when buying Swiss real estate
1. Define your budget
Even if this advice may seem obvious, the temptation can be great to start looking for real estate offers without having a clear idea of the amount of money you will actually pay. The very first point to be clearly defined is therefore, about your financial situation. How much capital do you have and what is your gross annual income? For this, you can use real estate financing simulation websites to get a general idea. Then, make an appointment with your bank to get a more precise and detailed calculation.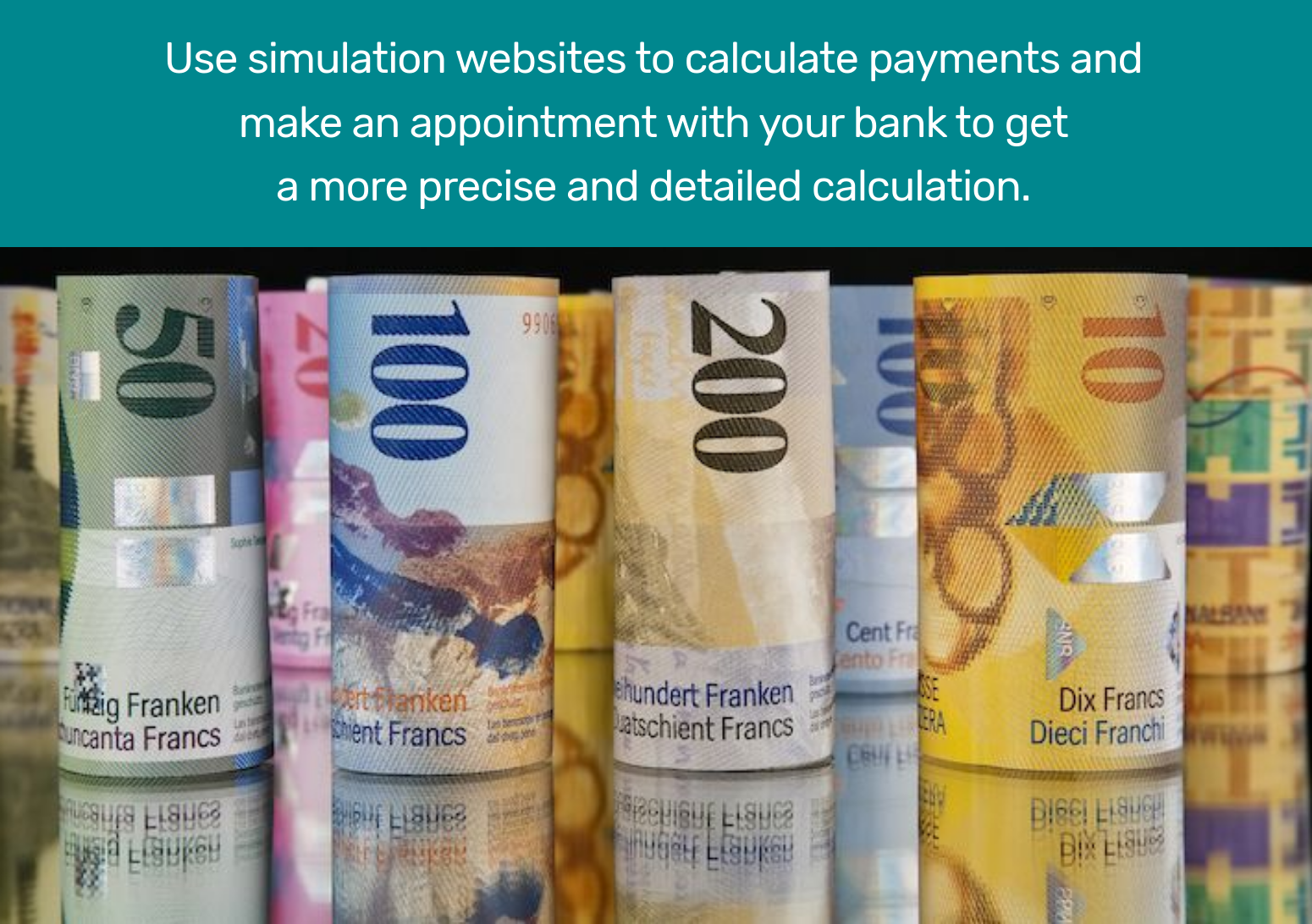 2. Identify your requirements
To clearly define the type of property you are looking for, you need to be clear about your needs. Take the time to define all the aspects that the property of your dreams must absolutely meet - and those that seem less important to you. Also, list the aspects of a home that you find unappealing.
When you start to visit properties, you will quickly realize that your requirements change as your experience progresses.
3. Start your research
Once your budget and your search criteria have been defined, you can embark on the adventure of searching and viewing homes. A good place to start is with www.properstar.com or you can contact an agent - or both!. Brokers will take a commission on the purchase, which is usually 5% of the selling price. On the other hand, if you contact a broker who sells real estate himself, the brokerage fees will then be borne by the seller. In several cantons, the costs are shared.

4. Make efficient visits
When visiting properties you like, keep your cool. A house may look ideal in the photos, but you may be disappointed at the time of the visit. You can also have a real crush on a house or an apartment. We advise you to exercise caution and take your time. For example, check the conditions of the walls and the roof, assess the noise from the neighborhood and surroundings, and carefully examine the layout of the rooms and inspect visible surfaces from top to bottom.
Ask the owner any questions you think are important. Find out as much as possible about the neighborhood and the surrounding area. Are there any shops nearby? How is the region served by public transport? Is there a school nearby? If you plan to do any renovations, arrange a tour with an architect. He will be able to advise you and make suggestions.
If your initial crush is love at first sight, it is time to make an offer. If the advertised price seems too high, an acceptable first bid may be about 5-10% lower. Find the market prices for the same type of property in the region in order to make a suitable offer that the seller will be more willing to accept.
Les pièges à éviter au moment de l'achat d'un bien immobilier
Buying your first property in Switzerland is an exciting time for you! Even though we hope that everything goes perfectly for you at all stages of the purchase or construction, we encourage you to be aware of some potential traps that may complicate your purchase journey.
Read the purchase contract carefully, including the clauses written in small print. Find out exactly what services are in the contract and their costs. Also, pay attention to the deadlines and your rights in the event of defects or delays. If the seller offers you a fixed price, check the amenities included and any costs incurred in the event of a change to these inclusions.
If you buy an off-plan property, check that all the fittings included in the price are stipulated in the contract. All additional costs should be clearly defined in advance and in writing. In the event of a defect, immediately report your complaint to the manufacturer by mail.
The plans, the estimate and the purchase contract are crucial documents
When making a down payment on the purchase, be careful. The seller will assure you that this amount will be deducted from the total purchase price, and it is true. However, if the seller you contracted with files for bankruptcy during construction, you forfeit your deposit and may become the owner of an unfinished property. Do some research about the viability and reputation of the company you are working with.
Financial opportunities
In Switzerland, the purchase of a house or an apartment is possible through a mortgage. You need to have funds totalling at least 20% of the purchase price. The mortgage, therefore, represents a maximum of 80% of the purchase price of the property. Equity can come from several sources. Note that 10% of the equity must come from your savings, securities, an advance on an inheritance, a donation, or assets on the 3rd pillar. The other 10% can be financed by a pledge or by an early withdrawal from the 2nd pillar (LPP). We advise you to keep part of your savings to be able to face any unforeseen events without taking the risk of putting yourself in a delicate financial situation.
It is also important to note that your equity is not enough to ensure you have access to homeownership. Your bank will only grant you a mortgage based on an assessment of your annual income. Usually, banks grant a mortgage only if the cost of the property does not exceed 30% of your gross annual income. The ongoing charges cover the mortgage rate, amortization, maintenance costs, and charges.
Real estate purchase financing example
If you choose a property worth 2,000,000.- Frs.

You must bring at least 400,000 francs of equity.

The mortgage will amount to 1,600,000 CHF.

The interest rate of 1.5% per year will represent 24,000.- Frs (1.5% rate chosen for the example)
Depreciation costs depend on the ratio established by the bank. Maintenance costs and charges amount to 1% of the purchase price, or 20,000.- Frs. The total ongoing charges should not exceed one-third of your gross annual income.
It is on this condition that you will be able to obtain a mortgage and buy your first property in Switzerland.
Good luck with your purchase!