A bridge loan is a short-term financing tool that helps purchasers to "bridge" the gap between old and new mortgages by allowing them to access equity in their current residence as a down payment, while essentially owning two properties concurrently as they wait for the sale of their existing home to close.
Shopping for homes in a red-hot market is not easy
Clients are finding that this type of financing means that they can afford to move. By financing the properties, you can even add an income-producing asset to your portfolio, and if you are fortunate enough to find two apartments on the same development you may even be able to get a discount for buying multiple units. Done properly, buying a property with a mortgage can supercharge your investment returns, and provide you with a much nicer lifestyle.
Demand for Bridging finance in Portugal
In 2022, home-buyers understand the need to act fast to secure their dream property. With the housing market booming right now, demand is so strong that buyers often need to buy their new home before selling the existing one.
Let's take a look at a case study where a client in Portugal is looking for short term financing because they intend to sell their existing property but have not yet found a buyer.
Banking
The client has selected a property that they love, priced at €500,000 and plans to get a 30-year mortgage for €440,000.
Their existing property is valued at €200,000 and the client has an outstanding mortgage balance of €50,000.
In total, the client needs to borrow €440,000 + €50,000). = €490,000
When the existing property sells, the client will gain €150,000 from that sale.
So, of the €490,000 required, only €340,000 of this needs to be financed over the long term and €150,000 can be borrowed as short-term bridging finance (until the existing property is sold.)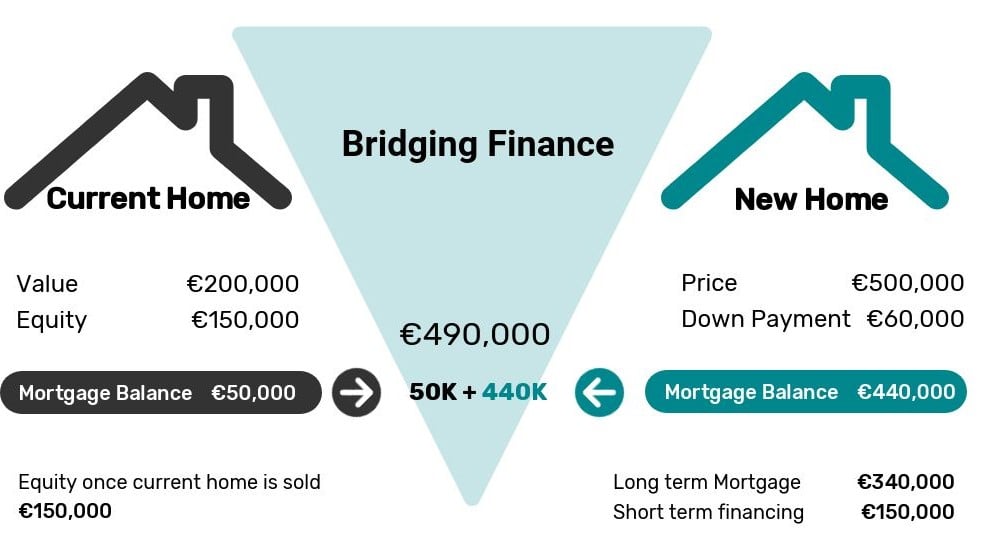 Financing
The mortgage deal for this client may look like this:
€340,000 mixed rate 30-year long-term mortgage:
10 years at a fixed rate 1.9%

then 20 years variable rate of 6-month Euribor + 1.09%
€150,000 fixed rate short-term loan:
Interest only + 10% of capital repayment of the short-term mortgage: € 249.38 (30 years fixed rate at 1.75%)

No life insurance is required
While the existing property remains unsold the client will make monthly payments for both loans. Upon sale of the existing mortgage, the short-term loan is paid off and the client continues to pay their mortgage in the new home. Buying costs will include mortgage fees for both loans, and both properties must be insured while under ownership.
Approval
Properstar partner, Mortgage Direct*, works closely with multiple short-term bridging lenders based both in Spain and Portugal, and are therefore, able to ensure that financing for their clients can be in place very quickly.
For many buyers, the decision to seek bridge financing is strategic, as it allows them to make upgrades to their new house in Spain or Portugal, without the stress of trying to remodel after just moving into the new home.
Conditions for bridging finance
If you have qualified for a new mortgage, then you should also qualify for bridge financing. Most financial institutions will lend you the down payment if your existing house is sold on paper. Bridging finance is a short-term loan for the down payment on the new home. The rest of the mortgage will fund at standard rates, terms and amortization periods. Bridging finance terms only apply to the loan for down payment.
Overall, a bridge loan will usually cost a borrower somewhere between $1000 – $2000 which many buyers feel is worth their peace of mind in this frantic and dynamic housing market.
Increase your purchasing power
Taking out a mortgage is a long-term commitment. Properstar helps you find the best rates and helps you move into your new home faster.
We work with banks to find the one that fits your profile and save you on your taxes and fees.
Comparison of rates from each bank

Tips for building equity

Savings on taxes and fees
*Mortgage Direct is regulated by the Bank of Spain, company registered in the BoS's Register of Real Estate Credits Intermediaries under number D108.
Contact a mortgage specialist